Elder Planning Counselor EPC ™
International Designation Program


Our goal is to enrich the knowledge and understanding of professionals including Insurance and Financial Advisors, Real Estate Agents, Lawyers and Accountants, Care givers, Medical personnel and generally people who work in the 50+ age group through education on topics focusing upon the evolving and specialized needs of Canada's citizens as they age.
The Canadian Initiative for Elder Planning Studies, believes that working with the maturing client involves a "total needs approach", and that these needs evolve from an individual's early wage-earning years and continue to change as the individual moves through the aging process. The Elder Planning Counselor EPC curriculum is a comprehensive education program designed to recognize these needs and provide you with the essential knowledge and tools that are necessary to effectively develop proper rapport and practical solutions.
The initiative offers you:
The most comprehensive, up-to-date ELDER educational content available in the marketplace today.

Access to quality education from a company that is respected in the Financial Services Professional Development field.

Educational instruction and content from nationally recognized qualified educators who are highly respected in their fields.

Modules that are relevant and specific to your professional practice, together with the flexibility to tailor your learning towards your specific career objectives.
With the distance learning program you study at your own pace.
(Must be completed within 6 Months)


Elder Planning Counselor EPC ™
International Designation Program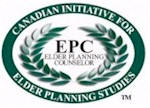 This web site Copyright © 2015

Canadian Initiative for Elder Planning Studies Inc.

4438 Ontario Street, Suite 203 Beamsville, ON L0R 1B5
Phone toll free 866 833-8606 Fax toll free 866 209-5111