The EPC Designation program will improve your options and give you more control over your business.
Before taking the EPC Designation course, many of our targeted professions treated the 50+ population in the same way as they did their younger clients and prospects.
What does the 50+ population expect from you?
Elders appreciate professionals who:
Know the issues and alternatives that are important and unique to senior life.


Respect their circumstances and confidentiality.


Provide guidance and assistance with the elder's best interests in mind.


Accommodate their physical and health challenges such as illnesses, vision or hearing impairment, when speaking with them.
The Elder Planning Counselor designation program is designed with you in mind. Our goal is to give you the education and tools that you need to work confidently and profitably within the 50+ age group.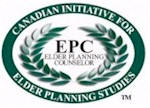 This web site Copyright © 2013 Canadian Initiative for Elder Planning Studies Inc.

4438 Ontario Street, Suite 203 Beamsville, ON L0R 1B5
Phone toll free 866 833-8606 Fax toll free 866 209-5111