EPIC CONFERENCE | INTRODUCTION | ELDER FACTS | PROGRAM CURRICULUM
BENEFIT TO YOU | VERIFIED CE CREDITS | TUITION | FAQ'S | LIVE CLASS SCHEDULE
DISTANCE LEARNING | GRADUATE COMMENTS | EPC MEMBERSHIP | CODE OF ETHICS
MEET THE FACULTY MEMBERS | COMPLAINTS AND COMPLIANCE | OUR PARTNERS
MEDIA | MEMBER LISTING | MEMBER UPDATE | MEMBERSHIP RENEWAL | CONTACT US
BENEFIT TO YOU
Reasons why you should earn your Elder Planning Counselor Designation
A quote from Mr. Peter Wouters, Faculty Chair CIEPS
"Anyone interested in developing a specialty and acumen in the unique needs, wants and issues of today's and tomorrows elder population will find this a very worthwhile program. We are confident that much of what you will learn you will not have picked up elsewhere, certainly not in a format geared to actionable items and developing deep meaningful relationships with elders, beyond the numbers and figuring out how much is enough."

The first all Canadian Elder educational Designation program in Canada which was designed by Canadians for Canadian professionals.

The ONLY Elder Designation program that has Universities and Colleges as Partners delivering the EPC Designation program across Canada.

The EPC Designation program was not only the first, but is the fastest growing Designation program in Canada with over thousands of graduates.

Recognized and accepted by all the Financial Services Regulatory bodies and many Associations across Canada.

Many companies support the EPC Designation program and as a result reimburse all or part of the tuition for their Advisors and Associates. Please check with your company.

All of our Canadian Initiative for Elder Planning Studies Faculty have earned their EPC designation and are considered to be experts in their own right.

Members have ongoing access to the Faculty for advice and suggestions pertaining to their individual profession.

The EPC Designation program includes skills that will enhance your interaction with the age 50+ population.

Study materials include four Desk Reference volumes containing over 900 pages of valuable information and facts pertaining to present and future Canadian Elders.

All members have access to resource information CD that contains close to 300 pages of elder Canadian Federal and Provincial Resources and website addresses designed to assist the EPC when interacting with "Elders".

Distance Learners are provided with a complete set of DVD's containing all the live lectures.

Access to the EPC Member's only website which contains timely information and useful updated educational materials and many member discounts such as CARP membership, hotels, car rentals and even professional frames to display your EPC Designation recognition.

Members only Email newsletter (PULSE) containing useful ideas, articles and timely information that you can send to your elder clients and prospects.

Discount tuitions when 10 or more from the same company attend the same class.

Corporate discounts are available for classes of 25 or more when held at your location.

Members are listed on our public website.

An EPC Member Board dedicated to ensuring that Canadian Initiative for Elder Planning Studies Best Practices procedures are followed.

Advanced Elder Planning Issues Conferences (EPIC) which are held on an ongoing basis featuring elder educational experts.

A Compliance department dedicated to ensuring that our aging society is treated fairly and properly within the scope of all laws.
EPIC CONFERENCE | INTRODUCTION | ELDER FACTS | PROGRAM CURRICULUM
BENEFIT TO YOU | VERIFIED CE CREDITS | TUITION | FAQ'S | LIVE CLASS SCHEDULE
DISTANCE LEARNING | GRADUATE COMMENTS | EPC MEMBERSHIP | CODE OF ETHICS
MEET THE FACULTY MEMBERS | COMPLAINTS AND COMPLIANCE | OUR PARTNERS
MEDIA | MEMBER LISTING | MEMBER UPDATE | MEMBERSHIP RENEWAL | CONTACT US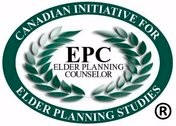 Canadian Initiative for Elder Planning Studies Inc.
203-4438 Ontario Street

Beamsville, ON L0R1B5

Toll Free Phone 866 833-8606 Toll Free Fax 866 209-5111
This web site Copyright © 2018 Canadian Initiative for Elder Planning Studies








"EPC designation, EPC, canadian elder benefits, Elder Planning Counselor, Distance Learning, Correspondence Course, CE Credits, CSA, Certified Senior Advisor, estate planning, end of life planning, senior social issues, elders, caregiving, caregiver, chronic illnesses, retirement benefits, government benefits, OAS, CPP, lifestyle, dementia, dymentia, alzheimer's, alzheimers, medicare, bereavement, snowbirds, funeral planning, end of life issues, designation program, training, certification class, correspondence course, online study, seniors, 50 plus, textbook, correspondence, CIEPS, Canadian Initiative for Elder Planning Studies, competitive edge, advisors, older people, elder marketing, old, boomers, marketing strength, education, elder studies, institute, insurance financial planning, health, long term care, gerontology, lifestyle, counselling, retirement, training for professionals"