EPC PROGRAM

DELIVERY OPTIONS & TUITION

DELIVERY OPTIONS

You have 3 options of attaining your EPC Designation

1. Enrol in one of the EPC Live Exam Preparation Classes as availability permits. The Live Examination Preparation Class consists of 3 ½ days. Three days of classroom instruction and the half-day is for the purpose of writing your EPC Qualification Examination.

2. Enrol in the Distance Learning method of attaining the EPC Designation. With this option you will receive everything that you would receive in a live class to allow you to study and prepare for the EPC Qualification Examination.

3. Enrol in a EPC Designation program Webinar class. This option is currently being offered by Business Career College, one of our EPC delivery partners. CIEPS will be providing additional web delivery options in 2021.

Regardless of the option you choose, you will receive the 4 module

Desk Reference Materials, EPC Student Workbook & the EPC Designation Program Registration Booklet.

"Just attending" the class, OR participating in any of the other options, does NOT guarantee your achievement of the EPC Designation. An exam must be written in a supervised environment. This closed book exam will be monitored and consists of 125 multiple-choice questions. A 70% pass mark must be achieved in order to receive your EPC Designation.

Please call Toll Free 855-882-3427 if you have questions regarding any of these options.



PAYMENT OPTIONS
4-Pay Payment Plan:
(credit card only)
Please note that some of our EPC Partners may not offer this option

CIEPS offers a convenient credit card payment option for the program. The 4-Pay plan allows students to evenly distribute the cost of the course over four monthly instalments. The 4-Pay option is available for registrations that are submitted online, by fax, by mail, or by phone.
There is a $25.00 administration fee for this option.

Single Pay:
(credit card, money order, cheque or t-ransfer sent to payments@ceips.com)

To pay your registration fee with a credit card, you may register online, by fax or by mail. To pay your registration fee with a cheque or money order you may register online or by phone and forward your payment for the amount of the registration fee, payable to CIEPS.

Annual Membership Dues

The first-year membership fee of $150.00 + TAX is waived upon payment of your tuition fee.

Credit Cards Accepted

E-transfer sent to payments@cieps.com also accepted (You do not require a password)
HOW TO ENROL
By Phone:
Call our Office at: 855-882-3427
By Mail:
CIEPS, 4438 Ontario Street, Suite 203, Beamsville, ON L0R 1B5
By Fax:
Toll Free 866 209-5111
Online:
Submit your registration through our website. ENROLMENT FORM
ADMINISTRATIVE INFORMATION
Our Cancellation Policy
You may transfer to another "Live" , or webinar class program.

You may transfer to the Elder Planning Counselor Distance Learning Program at an additional cost of $100 + HST/GST. You will receive a USB with all the Faculty PowerPoint presentations contained on it to assist you with your study.

You may transfer your enrollment to someone else.
If you choose to cancel completely within 14 days of your scheduled live class without registering for another Live Class or Distance Learning Program, you will be charged a cancellation fee equal to 50% of the tuition paid for the program. All materials must be returned unused in original packaging to us prior to any refund issued.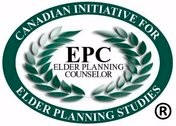 Canadian Initiative for Elder Planning Studies Inc.
203-4438 Ontario Street

Beamsville, ON L0R1B5

Toll Free Phone 855-882-3427 Toll Free Fax 866 209-5111
This web site Copyright 2021 CIEPS (2020) Ltd












"EPC designation, EPC, canadian elder benefits, Elder Planning Counselor, Distance Learning, Correspondence Course, CE Credits, CSA, Certified Senior Advisor, estate planning, end of life planning, senior social issues, elders, caregiving, caregiver, chronic illnesses, retirement benefits, government benefits, OAS, CPP, lifestyle, dementia, dymentia, alzheimer's, alzheimers, medicare, bereavement, snowbirds, funeral planning, end of life issues, designation program, training, certification class, correspondence course, online study, seniors, 50 plus, textbook, correspondence, CIEPS, Canadian Initiative for Elder Planning Studies, competitive edge, advisors, older people, elder marketing, old, boomers, marketing strength, education, elder studies, institute, insurance financial planning, health, long term care, gerontology, lifestyle, counselling, retirement, training for professionals"