INTRODUCTION & ELDER FACTS
EPC DESIGNATION
The Elder Planning Counselor plays an especially important part in dealing with elders on a financial, social or health basis.
The astute professional who recognizes elder trends, wants, and needs, will have an ample supply of clients, prospects, and referrals to keep them busy.
We invite YOU to do what it takes and achieve your EPC Designation – TODAY! ENROL TODAY
ELDERS EXPECT MORE
The EPC Designation program will improve your options and give you more control over your business.
Before taking the EPC Designation course, many of our targeted professions treated the 50+ population in the same way as they did their younger clients and prospects.
What does the 50+ population expect from you?
Elders appreciate professionals who:
Know the issues and alternatives that are important and unique to senior life.

Respect their circumstances and confidentiality.

Provide guidance and assistance with the elder's best interests in mind.

Accommodate their physical and health challenges such as illnesses, vision, or hearing impairment, when speaking with them.
The Elder Planning Counselor designation program is designed with you in mind. Our goal is to give you the education and tools that you need to work confidently and profitably within the 50+ age group.
Any profession who works with elders will be exposed to the power of having the EPC Designation. Financial Services Professionals, Real Estate Agents, Doctors, Nurses, Health Care workers, Care Givers, Nursing & Retirement Home owners or employees, Social workers as well as Funeral Home Directors are only some professions and occupations that will benefit from this highly sought-after Designation.
View complete EPC Curriculum here - CURRENT EPC CURRICULUM
View more information on How to Become an EPC then decide which method is best for you and ENROL TODAY
_____________________________________________
View Complete TUITION OPTIONS
Live Exam Preparation Class - $995.00 + Tax
Distance Learning - $1095.00 + Tax
Webinar Learning - $1095 + Tax
Your first year's membership fee of $150.00 is waived upon payment of your tuition fee!
The EPC designation will be awarded upon successful completion of a Protored Qualification examination and acceptance to the Canadian Initiative for Elder Planning Studies.
_____________________________________________
SOME ELDER FACTS TO CONSIDER
Situation Critical – Key World Facts
The pace of population ageing is much faster than in the past. Though older adults are a reigning economic segment, the attitudes and stereotypes about ageing persist and market innovation to meet their needs is lagging.
Collaboration among policymakers, civil society, academia, and the private sector is crucial to creating holistic solutions that promote the safety, autonomy, well-being, and dignity of older adults.
There will be a shift in the global aging population from 7% today to 20% in the next few decades. This growth will be one of the greatest social, economic, and political transformations of our time. It will force changes in systems, have impact on families, and will require new solutions.
All countries face major challenges to ensure that their health and social systems are ready to make the most of this demographic shift.
Some Quick Facts
- The current life expectancy for World in 2022 is 72.98 years, a 0.24% increase from 2021. The life expectancy for World in 2021 was 72.81 years, a 0.24% increase from 2020. The life expectancy for World in 2020 was 72.63 years, a 0.24% increase from 2019.
- Globally, the number of older persons is growing faster than the number of people in all younger age groups. By 2030, older persons will outnumber children under 10 (1.41 billion versus 1.35 billion). By 2050, there will be more people aged 60 years or over than adolescents and youth aged 10-24 years (2.1 billion versus 2.0 billion).
- In 2050, 80% of older people will be living in low- and middle-income countries.
- The number of persons 60 years and older will grow fastest in developing countries. Between 2017 and 2050, the number of persons aged 60 years and over living in developing regions is expected to more than double from 652 million to 1.7 billion whereas more developed countries will see an increase from 310 million to 427 million. The number of older persons is growing fastest in Africa, followed by Latin America and the Caribbean then Asia. Projections indicate that 80 per cent of the world's older population will live in the less developed countries in 2050.

Situation Critical – Key Canadian Facts

"Older Canadians are a growing economic and politically influential group," says Statistics Canada. "They are staying healthier, active, and involved for longer.

The latest census data from 2021 shows for the first time since the end of the baby boom, the boomer generation in Canada makes up less than a quarter of the country's population.

While the millennial population is trending toward becoming the largest generation in Canada by 2026, the sheer number of over-85s in the country will make it difficult to fund the increased demand for health services and care.

Canada's population keeps growing older and is expected to age more rapidly in the years to come, according to the latest census data from Statistics Canada.

The data also shows Canada's seniors over the age of 85 are among the fastest-growing age groups in the country, marking another milestone on the slow march to what experts warn will be a crisis in care for the country's elders.

The 2021 national census shows seniors over the age of 85 make up one of the country's fastest growing demographics. The population of that age group is expected to triple over the next 25 years.

Between 2016 and 2021, the number of people aged 85 and older grew by 12 per cent — more than twice as high as the overall growth of the Canadian population at 5.2 per cent.

Some Quick Facts

- At the turn of the century in Canada, the life expectancy was only 56 years of age.
- In 1952 when the Old Age Security was introduced, the payout began at Age 70 and paid $40.00 per month…Life expectancy in 1952 was only 67 years of age.

- On July 1, 2021, the median age of Canadians was 41.1 years old.

- The overall life expectancy for Canada in 2022 was 82.81 years, a 0.18% increase from 2021. The life expectancy for Canada in 2021 was 82.66 years, a 0.18% increase from 2020. COVID affected these figures for 2021 & 2022 Canadian women Life expectancy at birth is 84.74 while men are 81.15 for 2022. This data is based on the latest United Nations Population Division 2022 estimates.

- Reductions in life expectancy were directly associated with COVID-19 in 2020.

- Life expectancy at age 65 in Canada is 19.49 years for males and 22.19 years for females as of 2020.

- In 2020, there were 6,835,866 people aged 65 and over. On July 1, 2021 there were 7,081,792 people over age 65 and by 2030 – just 8 years from now it is expected that seniors will number over 9.5 million and make up 23 percent of Canadians

- On July 1,2021 there were 12,822 centenarians and it is projected that by 2051, the number of centenarians could reach 40,000.

The purpose of providing these numbers is to give you a perspective on the impact that aging has in Canada and the world, and the need to have the knowledge to deal with these important issues.

Please note that the previous numbers can change at any time throughout the year depending on when the stats were taken.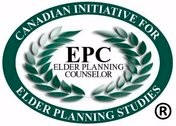 Canadian Initiative for Elder Planning Studies Inc.
203-4438 Ontario Street

Beamsville, ON L3J 0A4

Toll Free Phone 855-882-3427 Toll Free Fax 866 209-5111
This web site Copyright CIEPS (2020) Ltd












"EPC designation, EPC, canadian elder benefits, Elder Planning Counselor, Distance Learning, Correspondence Course, CE Credits, CSA, Certified Senior Advisor, estate planning, end of life planning, senior social issues, elders, caregiving, caregiver, chronic illnesses, retirement benefits, government benefits, OAS, CPP, lifestyle, dementia, dymentia, alzheimer's, alzheimers, medicare, bereavement, snowbirds, funeral planning, end of life issues, designation program, training, certification class, correspondence course, online study, seniors, 50 plus, textbook, correspondence, CIEPS, Canadian Initiative for Elder Planning Studies, competitive edge, advisors, older people, elder marketing, old, boomers, marketing strength, education, elder studies, institute, insurance financial planning, health, long term care, gerontology, lifestyle, counselling, retirement, training for professionals"