EPIC CONFERENCE | INTRODUCTION | ELDER FACTS | PROGRAM CURRICULUM
VERIFIED CE CREDITS | HOW TO BECOME AN EPC | TUITION | LIVE CLASS SCHEDULE | DISTANCE LEARNING | MEET THE FACULTY MEMBERS | CODE OF ETHICS | COMPLAINTS AND COMPLIANCE | EPC MEMBERSHIP | MEMBER UPDATE | MEMBERSHIP RENEWAL | LOCATE AN EPC | GRADUATE COMMENTS | OUR PARTNERS | MEDIA | CONTACT US | FAQ'S
ELDER FACTS
Situation Critical - World Facts
Globally, the number of older persons is growing faster than the number of people in all younger age groups. By 2030, older persons will outnumber children under 10 (1.41 billion versus 1.35 billion). By 2050, there will be more people aged 60 years or over than adolescents and youth aged 10-24 years (2.1 billion versus 2.0 billion).

The number of persons 60 years and older will grow fastest in developing countries. Between 2017 and 2050, the number of persons aged 60 years and over living in developing regions is expected to more than double from 652 million to 1.7 billion whereas more developed countries will see an increase from 310 million to 427 million. The number of older persons is growing fastest in Africa, followed by Latin America and the Caribbean then Asia. Projections indicate that nearly 80 per cent of the world's older population will live in the less developed countries in 2050.

In most countries, the proportion of older people in the population will increase. In 2017, 1 in 8 people worldwide was aged 60 or over. By 2030, this is projected to rise to 1 in 6, and by 2050, 1 in 5.

Women tend to live longer than men. At the global level in 2010-2015, women's life expectancy at birth exceeded that of men by 4.6 years. Consequently, in 2017, women accounted for 54 per cent of the global population aged 60 years or over, and 61 per cent of those aged 80 years or over.

The pace of population ageing is accelerating. Today's developing countries must adapt much more quickly to ageing populations than many developed countries but are often at much lower levels of national income and health and social welfare infrastructure and capacities, compared to other countries that developed much earlier.
Situation Critical – Canadian Facts
At the turn of the century in Canada, the life expectancy was only 56 years of age.

In 1952 when the Old Age Security was introduced, the payout began at Age 70 and paid $40.00 per month…Life expectancy in 1952 was only 67 years of age.

In 2016, among people aged 100 and older, there were five women for every man, a result of women having a longer life expectancy than men—83.6 years for women compared with 79.4 years for men in 2011.

In 2016, there were slightly fewer than two women for every man aged 85 and older. In 2001, this ratio was over two women for every man aged 85 and older. This decreasing trend over the last 15 years is mostly related to higher gains in life expectancy among men than women, which means that the gap in life expectancy between men and women is narrowing.

In 2016, one out of eight people aged 65 and older (13.0%) was aged 85 or older. By comparison, in 1966, this proportion was 6.7%, half the proportion of 2016.

Beginning in 2016, there were more seniors (age 65 and older) than children (age 14 and under) in Canada. This trend is expected to continue over the next 50 years.

According to preliminary estimates, 17.2% of the country's population were aged 65 and older on July 1, 2018, compared with 14.4% on July 1, 2011. The proportion of seniors is expected to continue to rise rapidly in the coming years as more baby boomers turn 65.

In 2019, life expectancy was 84.31 years for women and 80 years for men.

In 2019 ,there were 10,795 centenarians living in Canada. Quite an increase considering that in 2016 there were only 8,230. By 2051, centenarians could reach 40,000.

The overall current life expectancy for Canada in 2020 is 82.52 years, a 0.18% increase from 2019.

By 2051, the number of centenarians could reach nearly 40,000, about five times the number observed in 2016. The first cohorts of baby boomers, born between 1946 and 1951, will be aged 100 and older by then.
EPC DESIGNATION
The Elder Planning Counselor plays a very important part in dealing with elders on a financial, social or health basis.
The astute professional who recognizes elder trends, wants and needs, will have an ample supply of clients, prospects and referrals to keep them busy.
We invite YOU to do what it takes, and achieve your EPC Designation – TODAY!
ELDERS EXPECT MORE
The EPC Designation program will improve your options and give you more control over your business.
Before taking the EPC Designation course, many of our targeted professions treated the 50+ population in the same way as they did their younger clients and prospects.
What does the 50+ population expect from you?
Elders appreciate professionals who:
Know the issues and alternatives that are important and unique to senior life.


Respect their circumstances and confidentiality.


Provide guidance and assistance with the elder's best interests in mind.


Accommodate their physical and health challenges such as illnesses, vision or hearing impairment, when speaking with them.
The Elder Planning Counselor designation program is designed with you in mind. Our goal is to give you the education and tools that you need to work confidently and profitably within the 50+ age group.
EPIC CONFERENCE | INTRODUCTION | ELDER FACTS | PROGRAM CURRICULUM
VERIFIED CE CREDITS | TUITION | FAQ'S | LIVE CLASS SCHEDULE | CODE OF ETHICS
DISTANCE LEARNING | GRADUATE COMMENTS | EPC MEMBERSHIP | MEET THE FACULTY MEMBERS | COMPLAINTS AND COMPLIANCE | MEMBER UPDATE | | OUR PARTNERS |
MEMBERSHIP RENEWAL | MEMBER LISTING | MEDIA | CONTACT US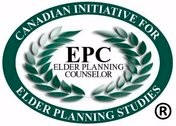 Canadian Initiative for Elder Planning Studies Inc.
203-4438 Ontario Street

Beamsville, ON L3J 0A4

Toll Free Phone 855-882-3427 Toll Free Fax 866 209-5111
This web site Copyright CIEPS (2020) Ltd







"EPC designation, EPC, canadian elder benefits, Elder Planning Counselor, Distance Learning, Correspondence Course, CE Credits, CSA, Certified Senior Advisor, estate planning, end of life planning, senior social issues, elders, caregiving, caregiver, chronic illnesses, retirement benefits, government benefits, OAS, CPP, lifestyle, dementia, dymentia, alzheimer's, alzheimers, medicare, bereavement, snowbirds, funeral planning, end of life issues, designation program, training, certification class, correspondence course, online study, seniors, 50 plus, textbook, correspondence, CIEPS, Canadian Initiative for Elder Planning Studies, competitive edge, advisors, older people, elder marketing, old, boomers, marketing strength, education, elder studies, institute, insurance financial planning, health, long term care, gerontology, lifestyle, counselling, retirement, training for professionals"