EPIC CONFERENCE | INTRODUCTION | ELDER FACTS | PROGRAM CURRICULUM
VERIFIED CE CREDITS | TUITION | FAQ'S | LIVE CLASS SCHEDULE | CODE OF ETHICS
DISTANCE LEARNING | GRADUATE COMMENTS | EPC MEMBERSHIP | MEET THE FACULTY MEMBERS | COMPLAINTS AND COMPLIANCE | MEMBER UPDATE | MEMBERSHIP RENEWAL | OUR PARTNERS | MEMBER LISTING | MEDIA | CONTACT US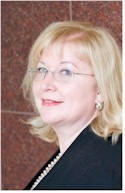 Ms. Kathryn Wright, BA., PFP., CFP., EPC

Faculty Member
Kingston, ON
Kathryn is a financial services professional with thirty years extensive and varied experience in bank, trust, brokerage, mutual fund and insurance company environments.
She has worked in senior and responsible positions in the financial industry in Toronto and in New York and returned to Kingston where she was raised. She joined Kingston Financial Centre in 2005. Kathryn assists individuals to understand, plan and reach their financial and personal goals with a particular emphasis on investment, insurance and estate and legacy planning.
While she has been a guest speaker many times including classes for local college and university students on Elder Law, and Financial Planning; with a retirees association on Benefits, Group Pension Plans and the need for out of country travel insurance; with the university staff association on Elder Planning; and with a local funeral home on the need for pre-planning.
Kathryn has also experienced first hand many aspects of Elder Planning – emotional and financial - from care of a terminally ill parent through settlement of the estate.
She has appeared as a guest expert for CKWS TV – Corus and local radio stations, written articles in The Whig Standard and Profile Magazine.
Kathryn is a graduate of Queen's University.
She is active in the Kingston community primarily with church work, as a Governor of Kingston General Hospital and with the University Hospitals Kingston Foundation. In 2008 she was honoured as one of the World Charity Award recipients. She is a happy golfer and improving curler.
EPIC CONFERENCE | INTRODUCTION | ELDER FACTS | PROGRAM CURRICULUM
VERIFIED CE CREDITS | TUITION | FAQ'S | LIVE CLASS SCHEDULE | CODE OF ETHICS
DISTANCE LEARNING | GRADUATE COMMENTS | EPC MEMBERSHIP | MEET THE FACULTY MEMBERS | COMPLAINTS AND COMPLIANCE | MEMBER UPDATE | MEMBERSHIP RENEWAL | OUR PARTNERS | MEMBER LISTING | MEDIA | CONTACT US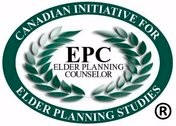 Canadian Initiative for Elder Planning Studies Inc.
203-4438 Ontario Street

Beamsville, ON L3J 0A4

Toll Free Phone 866 833-8606 Toll Free Fax 866 209-5111
This web site Copyright CIEPS (2020) Ltd







"EPC designation, EPC, canadian elder benefits, Elder Planning Counselor, Distance Learning, Correspondence Course, CE Credits, CSA, Certified Senior Advisor, estate planning, end of life planning, senior social issues, elders, caregiving, caregiver, chronic illnesses, retirement benefits, government benefits, OAS, CPP, lifestyle, dementia, dymentia, alzheimer's, alzheimers, medicare, bereavement, snowbirds, funeral planning, end of life issues, designation program, training, certification class, correspondence course, online study, seniors, 50 plus, textbook, correspondence, CIEPS, Canadian Initiative for Elder Planning Studies, competitive edge, advisors, older people, elder marketing, old, boomers, marketing strength, education, elder studies, institute, insurance financial planning, health, long term care, gerontology, lifestyle, counselling, retirement, training for professionals"