EPIC CONFERENCE | INTRODUCTION | ELDER FACTS | PROGRAM CURRICULUM
VERIFIED CE CREDITS | TUITION | FAQ'S | LIVE CLASS SCHEDULE | CODE OF ETHICS
DISTANCE LEARNING | GRADUATE COMMENTS | EPC MEMBERSHIP | MEET THE FACULTY MEMBERS | COMPLAINTS AND COMPLIANCE | MEMBER UPDATE | MEMBERSHIP RENEWAL | OUR PARTNERS | MEMBER LISTING | MEDIA | CONTACT US 



Ms. Jacqueline Figas, CLU., RHU., EPC
Faculty Member
Mississauga, ON
Jacqueline has over 30 years of industry experience in marketing management, sales management and training, with most of her background specializing in the area of health benefits. She is a noted speaker and author on seniors' issues and benefits planning for an aging clientele. In 2003 she established Health Assured Financial Group as an independent insurance firm in Mississauga Ontario to serve the Greater Toronto Area providing insurance for health and wellness. The company was awarded the 2005 Business Recognition Award from the City of Mississauga, Mississauga Business Enterprise Centre, awarded to business owners that have achieved excellence in their field.
In addition to running her personal insurance practice, Jacqueline serves as Chairman of the Board of Directors of the Oakville Senior Citizens Residence, a supportive housing initiative owned by the Ontario Housing Corporation. She is also an active member of the Advocis Peel-Halton Chapter and has served on the Executive Committee as Education Chair.
She is an advocate for seniors on medical safety and advance planning for a health emergency. Her advocacy work led her to develop a special medical safety program in this area, which has helped many seniors and planners.
She is a Chartered Life Underwriter, a Registered Health Underwriter and an Elder Planning Counselor, and educates on a range of aging issues including both health and social aspects related to aging.
She is the author of the Long Term Care Insurance training module produced by ADVOCIS under their Registered Health Underwriter (RHU) Designation Program. Her published works through CCH Canadian Limited include "The Aging Client and Long-Term Care Issues", and "Disability Insurance and Other Living Benefits".
Ask Jacqueline a question e-mail Jacqueline
EPIC CONFERENCE | INTRODUCTION | ELDER FACTS | PROGRAM CURRICULUM
VERIFIED CE CREDITS | TUITION | FAQ'S | LIVE CLASS SCHEDULE | CODE OF ETHICS
DISTANCE LEARNING | GRADUATE COMMENTS | EPC MEMBERSHIP | MEET THE FACULTY MEMBERS | COMPLAINTS AND COMPLIANCE | MEMBER UPDATE | MEMBERSHIP RENEWAL | OUR PARTNERS | MEMBER LISTING | MEDIA | CONTACT US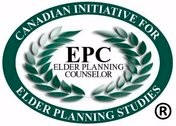 Canadian Initiative for Elder Planning Studies Inc.
203-4438 Ontario Street

Beamsville, ON L3J 0A4

Toll Free Phone 866 833-8606 Toll Free Fax 866 209-5111
This web site Copyright CIEPS (2020) Ltd







"EPC designation, EPC, canadian elder benefits, Elder Planning Counselor, Distance Learning, Correspondence Course, CE Credits, CSA, Certified Senior Advisor, estate planning, end of life planning, senior social issues, elders, caregiving, caregiver, chronic illnesses, retirement benefits, government benefits, OAS, CPP, lifestyle, dementia, dymentia, alzheimer's, alzheimers, medicare, bereavement, snowbirds, funeral planning, end of life issues, designation program, training, certification class, correspondence course, online study, seniors, 50 plus, textbook, correspondence, CIEPS, Canadian Initiative for Elder Planning Studies, competitive edge, advisors, older people, elder marketing, old, boomers, marketing strength, education, elder studies, institute, insurance financial planning, health, long term care, gerontology, lifestyle, counselling, retirement, training for professionals"