EPIC CONFERENCE | INTRODUCTION | ELDER FACTS | PROGRAM CURRICULUM
VERIFIED CE CREDITS | TUITION | FAQ'S | LIVE CLASS SCHEDULE | CODE OF ETHICS
DISTANCE LEARNING | GRADUATE COMMENTS | EPC MEMBERSHIP | MEET THE FACULTY MEMBERS | COMPLAINTS AND COMPLIANCE | MEMBER UPDATE | MEMBERSHIP RENEWAL | OUR PARTNERS | MEMBER LISTING | MEDIA | CONTACT US 



Mr. John Groscki, B.Comm, CA
Faculty Member
Toronto, ON
John graduated with a Bachelor of Commerce degree from McMaster University in Hamilton, Ontario in 1975. He achieved his CA designation 1977.
John is a Chartered Accountant with 25 years solid hands-on experience and significant achievements in accounting, taxation, audit, and business management. Successfully assisted more than 200 companies to obtain over $30,000,000 in tax refunds from amending income tax returns; completed over 1,000 financing applications and 100 insolvency and business reorganization assignments. John is versatile, effective, results-focused, and people-oriented business executive with exceptional communication skills who has helped his clients achieve their financial goals.
John has developed and managed a professional practice since 1979, growing annual revenues in excess of one million dollars, operating in four locations. The firm provides professional accounting, audit, tax, and management consulting services including: Income tax and estate planning, Annual budgeting and cost controls, Business financing proposals, Insolvency, creditor proposals and reorganizations, Litigation support and negotiation, Scientific Research and Experimental Development advisory services and Marketing and business development.
John also has extensive experience dealing with companies and individuals who are looking at receiving funding from the Government for various projects. Some of his expertise involves any paperwork required to attain investment credits that may include technology development, export development, consulting and management agreements.
Canada Customs and Revenue Agency in Toronto, Ontario employed Mr. Groscki from 1977 to late 1978. He was in the Business Audit department, where he gained considerable experience that has helped his clients today.
As a senior business auditor, he gained valuable insight into Revenue Canada's audit approach, income tax knowledge including assessing practices, and how the audit files are selected. He gained experience in report writing and special investigations. He also saw how CCRA handled negotiations with other tax professionals.
John also has continued his Education and Professional Development on a regular basis. He has excelled his practice by taking the following courses:
Charitable Tax Law: Extensive research and experience in all issues affecting Charitable Tax Law and Gifts in Kind. Have worked with charities in reviewing their finding and operating issues and fund raising techniques.
Litigation Experience: In-depth litigation experience serving as an expert witness and plaintiff. Subscribe to numerous professional publications such as Lawyers Weekly. Maintain a library that includes the Rules of Civil Procedure in addition to numerous other legal and insolvency publications.
Insolvency and Negotiation: Involved in numerous business bankruptcy proposals and successfully negotiated favourable settlements with creditors, lawyers, banks and government. Maintain an extensive reference library, and have taken numerous courses in negotiations and business psychology.
Professional Development Consortium: Founding member in 1981 of over one hundred CA's dedicated to professional development. Have attended an average of 20 seminars per year throughout my professional career.
Peak Performers charter member since 1994: An active member attending speaking engagements since the inception in 1994. This professional speakers series covers a broad range of business and professional topics.
Ask John a question e-mail John
EPIC CONFERENCE | INTRODUCTION | ELDER FACTS | PROGRAM CURRICULUM
VERIFIED CE CREDITS | TUITION | FAQ'S | LIVE CLASS SCHEDULE | CODE OF ETHICS
DISTANCE LEARNING | GRADUATE COMMENTS | EPC MEMBERSHIP | MEET THE FACULTY MEMBERS | COMPLAINTS AND COMPLIANCE | MEMBER UPDATE | MEMBERSHIP RENEWAL | OUR PARTNERS | MEMBER LISTING | MEDIA | CONTACT US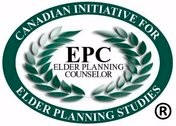 Canadian Initiative for Elder Planning Studies Inc.
203-4438 Ontario Street

Beamsville, ON L3J 0A4

Toll Free Phone 866 833-8606 Toll Free Fax 866 209-5111
This web site Copyright CIEPS (2020) Ltd







"EPC designation, EPC, canadian elder benefits, Elder Planning Counselor, Distance Learning, Correspondence Course, CE Credits, CSA, Certified Senior Advisor, estate planning, end of life planning, senior social issues, elders, caregiving, caregiver, chronic illnesses, retirement benefits, government benefits, OAS, CPP, lifestyle, dementia, dymentia, alzheimer's, alzheimers, medicare, bereavement, snowbirds, funeral planning, end of life issues, designation program, training, certification class, correspondence course, online study, seniors, 50 plus, textbook, correspondence, CIEPS, Canadian Initiative for Elder Planning Studies, competitive edge, advisors, older people, elder marketing, old, boomers, marketing strength, education, elder studies, institute, insurance financial planning, health, long term care, gerontology, lifestyle, counselling, retirement, training for professionals"