EPIC CONFERENCE | INTRODUCTION | ELDER FACTS | PROGRAM CURRICULUM
VERIFIED CE CREDITS | TUITION | FAQ'S | LIVE CLASS SCHEDULE | CODE OF ETHICS
DISTANCE LEARNING | GRADUATE COMMENTS | EPC MEMBERSHIP | MEET THE FACULTY MEMBERS†| COMPLAINTS AND COMPLIANCE | MEMBER UPDATE | MEMBERSHIP RENEWAL | OUR PARTNERS | MEMBER LISTING | MEDIA | CONTACT US†



Mr. Larry Terrace, FLMI, CH.FC., CLU., EPC.
Faculty Member
Vancouver, BC
Larry has specialized in working with clients who wish to access the liquid dollars within their Canadian corporations in a very tax efficient manner. This money can then be used in the short term by the clients and their families or can be passed down to children or grandchildren in future years in an extremely tax efficient method. Larry also works closely with agents providing them with unique sales ideas and concepts to help them provide effective solutions for their clientís problems and works with a few brokers as a branch manager in the Mutual Fund side of the business. He is familiar with all aspects of the industry, having been an agent, manager, sales trainer, lecturer, seminar coordinator, head office director, and a Marketing Director. Larry likes to think he is retired, yet he still puts in longer work weeks than those supposedly working full time.

Larry is a student of the Insurance Industry having started over 40 years ago in the financial field, after graduating from UBC with a Bachelor of Commerce, (B.Comm) majoring in Marketing and Finance. Larry is still upgrading his knowledge and participates actively within the industry. He currently is a licensed member of the professional Financial Planners Standards Council and as such is eligible to use the CFP (Certified Financial Planner) designation. He also holds his CLU and CHFC designations, awarded to those who have successfully completed many years of comprehensive, University Level courses in many areas including Estate Planning, Pensions, Insurance and Government Benefits. Larry is also an FLMI (Fellow of the Life Management Institute).
Larry has been active in the past as president of the B.C. Mainland Chapter of the Chartered Life Underwriters and Chartered Financial Consultants and as a voting member of the Insurance Council of B.C.

He conducts advanced seminars on Estate Planning, Estate Creation, Estate Preservation, Critical Illness, Long Term Care Insurance and Segregated Funds. His seminars and one-on-one sessions provide factual as well as sales ideas to help agents become proficient, successful salespeople.
Larry has been a guest on a numerous financial radio talk shows, taught both CAIFA continuing Education courses the LLQP exam preparation course. Larry was a regular lecturer for Pro-Seminarsí Continuing Education programs and is one of the founding faculty members for the Canadian Initiative for Elder Planning Studies (CIEPS) course leading to the EPC (Elder Planning Counselor) designation. When not working, Larry and his wife Jeanette can be found enjoying the waters of the Gulf of Georgia on their sailboat "Pacific Psalm". .
Ask Larry a question e-mail Larry
EPIC CONFERENCE | INTRODUCTION | ELDER FACTS | PROGRAM CURRICULUM
VERIFIED CE CREDITS | TUITION | FAQ'S | LIVE CLASS SCHEDULE | CODE OF ETHICS
DISTANCE LEARNING | GRADUATE COMMENTS | EPC MEMBERSHIP | MEET THE FACULTY MEMBERS†| COMPLAINTS AND COMPLIANCE | MEMBER UPDATE | MEMBERSHIP RENEWAL | OUR PARTNERS | MEMBER LISTING | MEDIA | CONTACT US†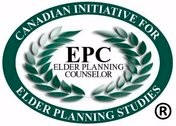 Canadian Initiative for Elder Planning Studies Inc.
203-4438 Ontario Street

Beamsville, ON L3J 0A4

Toll Free Phone 866 833-8606 Toll Free Fax 866 209-5111
This web site Copyright CIEPS (2020) Ltd







"EPC designation, EPC, canadian elder benefits, Elder Planning Counselor, Distance Learning, Correspondence Course, CE Credits, CSA, Certified Senior Advisor, estate planning, end of life planning, senior social issues, elders, caregiving, caregiver, chronic illnesses, retirement benefits, government benefits, OAS, CPP, lifestyle, dementia, dymentia, alzheimer's, alzheimers, medicare, bereavement, snowbirds, funeral planning, end of life issues, designation program, training, certification class, correspondence course, online study, seniors, 50 plus, textbook, correspondence, CIEPS, Canadian Initiative for Elder Planning Studies, competitive edge, advisors, older people, elder marketing, old, boomers, marketing strength, education, elder studies, institute, insurance financial planning, health, long term care, gerontology, lifestyle, counselling, retirement, training for professionals"