EPIC CONFERENCE | INTRODUCTION | ELDER FACTS | PROGRAM CURRICULUM
VERIFIED CE CREDITS | TUITION | FAQ'S | LIVE CLASS SCHEDULE | CODE OF ETHICS
DISTANCE LEARNING | GRADUATE COMMENTS | EPC MEMBERSHIP | MEET THE FACULTY MEMBERS | COMPLAINTS AND COMPLIANCE | MEMBER UPDATE | MEMBERSHIP RENEWAL | OUR PARTNERS | MEMBER LISTING | MEDIA | CONTACT US 


Steven Pitzner, B.BA, J.D. EPC
Founding Member CIEPS Advisory Council, Executive Director AIEPS & Faculty Member
Plano, TX
Mr. Pitzner received his BBA from the University of Wisconsin, Madison in 1966. He received Degrees in Finance & Accounting. In 1969 Steve received his Juris Doctorate (J.D.) from Baylor University in Waco, Texas.
Steven Pitzner has extensive experience in all facets of business/commercial law, tax, real estate law, tax and estate planning, and business litigation. Mr. Pitzner has extensive private practice experience working with high "net worth" individuals and small and mid-size business and professional firms on all types of estate plans including tax structures, complex wills and trusts, family limited partnerships, private placements, public offerings and securities. He has substantive experience working with brokers with a mid-size regional securities firm in Dallas and with major banks and financial planners in Denver on the estate planning and tax needsof their upper income professional and business clients. Mr. Pitzner has also served as regional claims counsel for Chicago Title Insurance Company giving him extensive real estate law background and experience.
While practicing in Dallas Mr. Pitzner represented a regional securities firm and handled several major mergers/acquitions for said firm as well as numerous securities arbitration proceedings. Mr. Pitzner also handled general corporate/transactional law while practicing in Dallas including supervising several bank mergers/acquisitions, as well as an initial public offering for a national pharmacy chain. Mr. Pitzner continues representing similar clients since relocating to Denver.
Mr. Pitzner currently serves as an attorney with Benson & Case, LLP, which is a mid-size business-oriented Denver law firm.
Mr. Pitzner holds the following licenses:
Wisconsin Bar License
Texas Bar License
Colorado Bar License
Texas CPA License
Securities Licenses (Series 7 and 66) and Colorado Life & Health Insurance Licenses
Ask Steve a question e-mail Steve
EPIC CONFERENCE | INTRODUCTION | ELDER FACTS | PROGRAM CURRICULUM
VERIFIED CE CREDITS | TUITION | FAQ'S | LIVE CLASS SCHEDULE | CODE OF ETHICS
DISTANCE LEARNING | GRADUATE COMMENTS | EPC MEMBERSHIP | MEET THE FACULTY MEMBERS | COMPLAINTS AND COMPLIANCE | MEMBER UPDATE | MEMBERSHIP RENEWAL | OUR PARTNERS | MEMBER LISTING | MEDIA | CONTACT US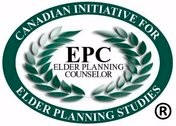 Canadian Initiative for Elder Planning Studies Inc.
203-4438 Ontario Street

Beamsville, ON L3J 0A4

Toll Free Phone 866 833-8606 Toll Free Fax 866 209-5111
This web site Copyright CIEPS (2020) Ltd







"EPC designation, EPC, canadian elder benefits, Elder Planning Counselor, Distance Learning, Correspondence Course, CE Credits, CSA, Certified Senior Advisor, estate planning, end of life planning, senior social issues, elders, caregiving, caregiver, chronic illnesses, retirement benefits, government benefits, OAS, CPP, lifestyle, dementia, dymentia, alzheimer's, alzheimers, medicare, bereavement, snowbirds, funeral planning, end of life issues, designation program, training, certification class, correspondence course, online study, seniors, 50 plus, textbook, correspondence, CIEPS, Canadian Initiative for Elder Planning Studies, competitive edge, advisors, older people, elder marketing, old, boomers, marketing strength, education, elder studies, institute, insurance financial planning, health, long term care, gerontology, lifestyle, counselling, retirement, training for professionals"